Two words: Meat & Whiskey! That is what you will find at Butcher's Union located at 438 Bridge St Downtown Grand Rapids. The deliciously fancy cocktails, super tasty food, and comfortable outdoor seating all make it the perfect place to be. Their mission is – "to offer delicious food, inspired cocktails and an unrivaled whiskey collection while creating a culture of warmth and belonging, where everyone is welcome. We exist to create experiences where passion, purpose and a good time come together." (https://www.butchersuniongr.com) I can say from experience they succeed! Butcher's Union also supports the community by trying to source all of their products from local farmers and partners around the area. Which of course is awesome and we love that!
Before I dive into their delicious drinks and food, I have to admit that I am not a whiskey drinker. However, they do have other amazing cocktails available for non-whiskey drinkers so there's something for everyone! Showing an example with my white peach sangria!
I am a huge sangria fan so I was very excited to see that this was an option. They also have a red sangria and offer a mixture of the two for the best of both worlds!
They are not known for Meat & Sangria though, so let's get into the whiskeys, bourbons, and ryes. My husband ordered THE SQUIRMING COIL which is – Old Overholt rye & Amaro Montenegro stirred with BU simple syrup, Fee Brothers aztec chocolate bitters & Angostura bitters, served up in a smoked glass with a flamed orange peel.
The smoke aspect of this drink really drew him in to the intense flavors offering a new twist to an Old Fashion for him. He ended up ordering two! He is looking forward to going back there and trying some of their other whiskey options while sitting out on the street patio in the cooler fall crisp air; creating a whole vibe there for you! Check out their full list of whiskey, bourbons, and ryes at Butcher's Union or on their website, the list is very impressive even for someone who does not drink it.
Onto these mouth watering sandwiches… They tasted just as good as they looked and were huge! We honestly could have split either one and still been stuffed! We ordered their pulled pork sandwich and the fried chicken sandwich and each came with a pile of fries.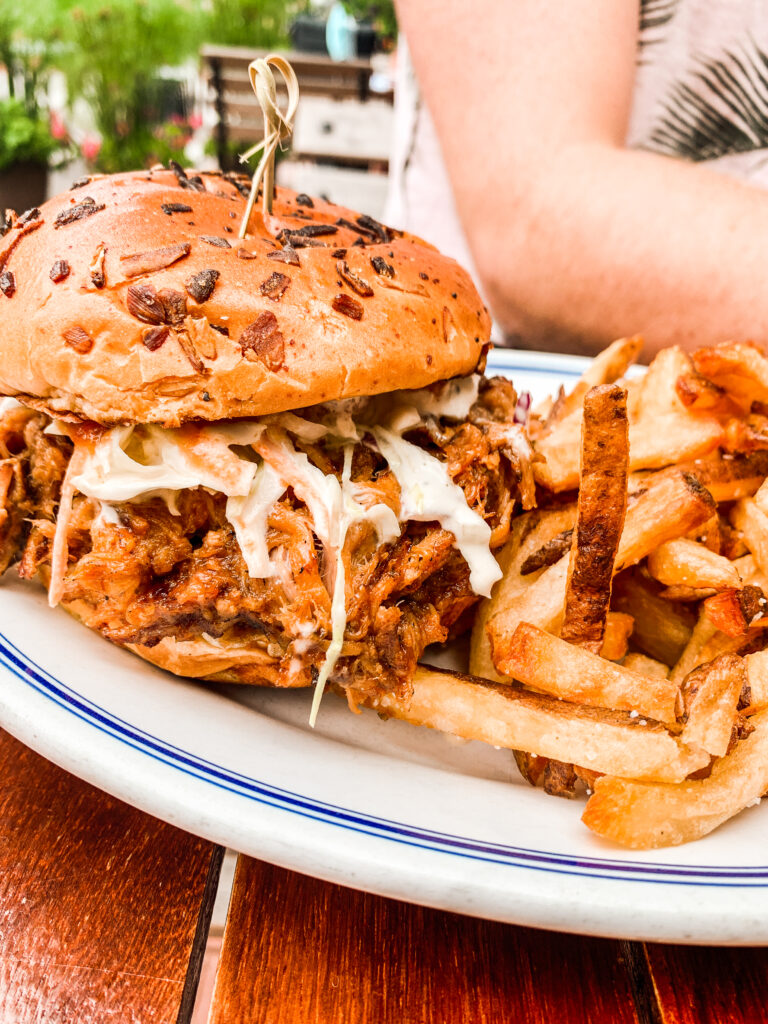 The chicken sandwich had a cucumber slaw on it and despite not being a huge fan of cucumbers, I thought it was delicious ! By the end I was just picking the cucumbers off to eat them ! I stole a few forkfuls of Tyler's pulled pork (you know like wives do) and it was so tender and flavorful. Highly recommend both of these sandwiches! As we waited for our food passing orders for other tables had us creating a list of things to try on future visits. ! There wasn't one meal that came out that didn't look delicious!
Whether you are wanting cocktails with friends and/or family, date night, a delicious meal, or all of the above Butcher's Union is the perfect spot! There is something for everyone and you have to take advantage of the patio seating while it lasts. I hope you guys love it as much as we do, even though I know you probably will!
Cheers!